130 WORKS OF ART FOR THE AUCTION OF CONTEMPORARY ART IN AID OF APT HOSPITAL
AUCTION UNDER THE PATRONAGE OF JOSIANE BALASKO
SATURDAY 15 JULY AT LUSTRERIE MATHIEU (84)
Under the patronage of Josiane Balasko, the second auction of contemporary art in aid of Apt Hospital will take place at 18.00 on Saturday 15 July at Lustrerie Mathieu (84).
An auction organised by the charitable Fund "Pour le Pays d'Apt, un hôpital d'avenir" with the aid of La Maison de Ventes Leclere, La Lustrerie Mathieu and a supporting committee of well known personalities with ties to the Luberon, all conscious of the benefits of a modernised hospital serving the region of Apt, work on which started last month.
To this end Jacques Attali, Pierre Cardin, Nicole et John Malkovitch, Poppy Salinger (Fondation Poppy et Pierre Salinger), Guillaume de Seynes (Hermès et Comité Colbert), Lord Snowdon (Linley et Christie's) and Pierre Vasarely (Fondation Vasarely) have shown their support for the Fund by agreeing to participate in an Honorary Committee presided over by Josiane Balasko.
Around 100 artists, collectors, private individuals and gallery owners have mobilised in offering one or more works in order to make a success of this second auction.
Thanks to these donors 130 works of painters, visual artists, photographers and sculptors will be offered during this charitable event, which will be conducted by Damien Leclere, dynamic auctioneer of Maison de Ventes Leclere (Marseille et Paris), who presided over the first auction for the hospital in 2016.
Edith Mézard, Vincent Boeuf, Jean-Pascal Hesse, Régis Mathieu and a number of volunteers from the Fund have made their contact lists available in order to make this year's event exceptional both in the number of artists represented and in the quality of works presented.
The auction and exhibition of the art works will take place in the magical Lustrerie Mathieu at Gargas, made available to the Fund by Régis Mathieu especially for this charitable event. It is also an occasion to discover the Lustrerie in its new configuration, with a gallery where the works offered will be exposed before the auction and which will subsequently be devoted to the theatrical display of the chandeliers created by the firm, a library and a tea room opening onto the garden.
A prestigious exhibition which has been made possible thanks to the generosity of many partners, economic and cultural players, artists and private individuals, conscious of the benefits of a modernised hospital, as much for the local population as for the Apt region itself.
It is worth noting that in 2016 the art auction attracted 63 artists, 90 works of art and raised 40,000 Euros for the hospital.
Many thanks to: Vignobles Aureto – L'Imprim – Malevard – Ville d'Apt
Auction catalogue :
CATALOGUE_VENTE_ENCHERES_ART_CONTEMPORAIN_HOPITAL_ (1)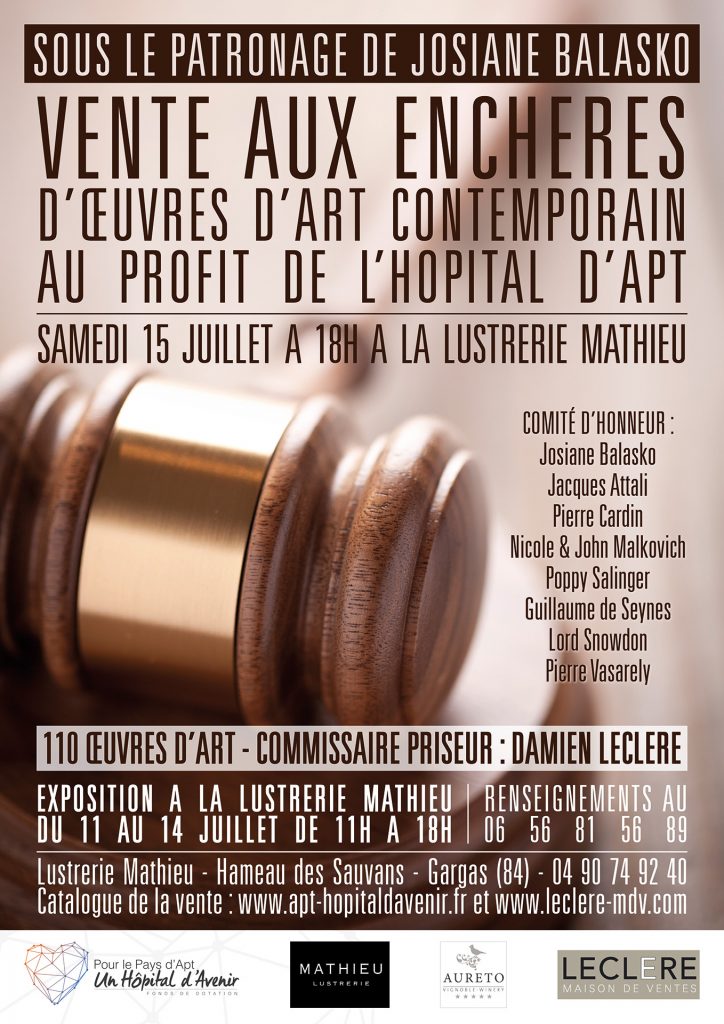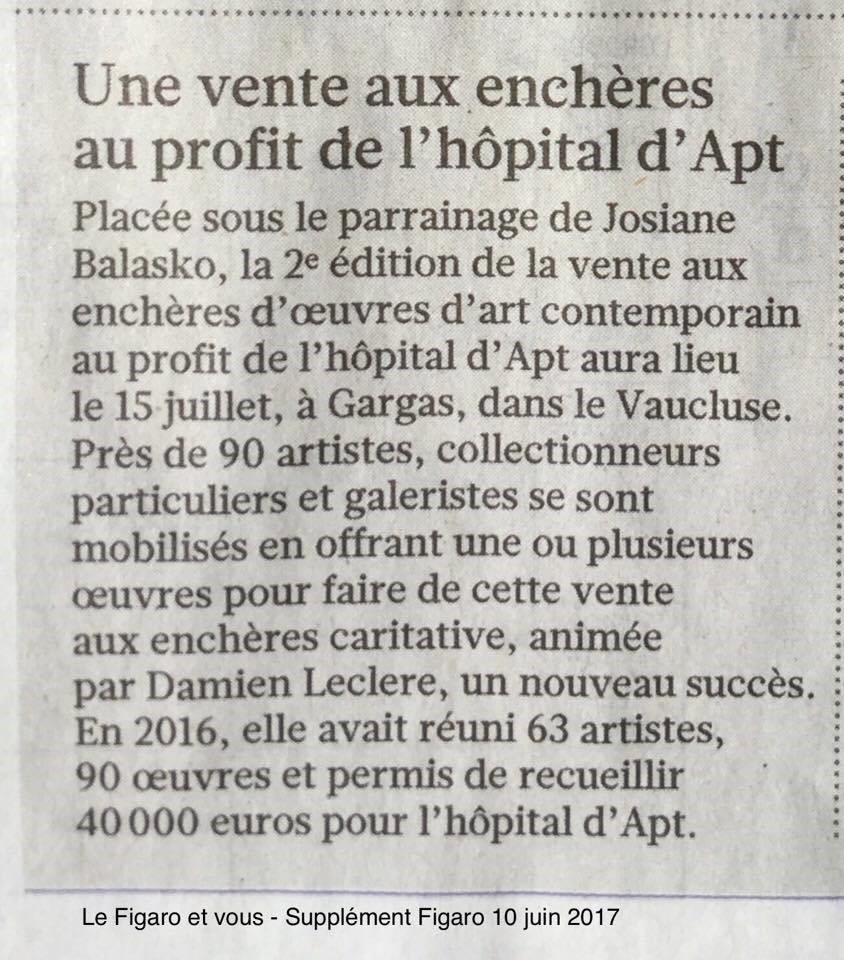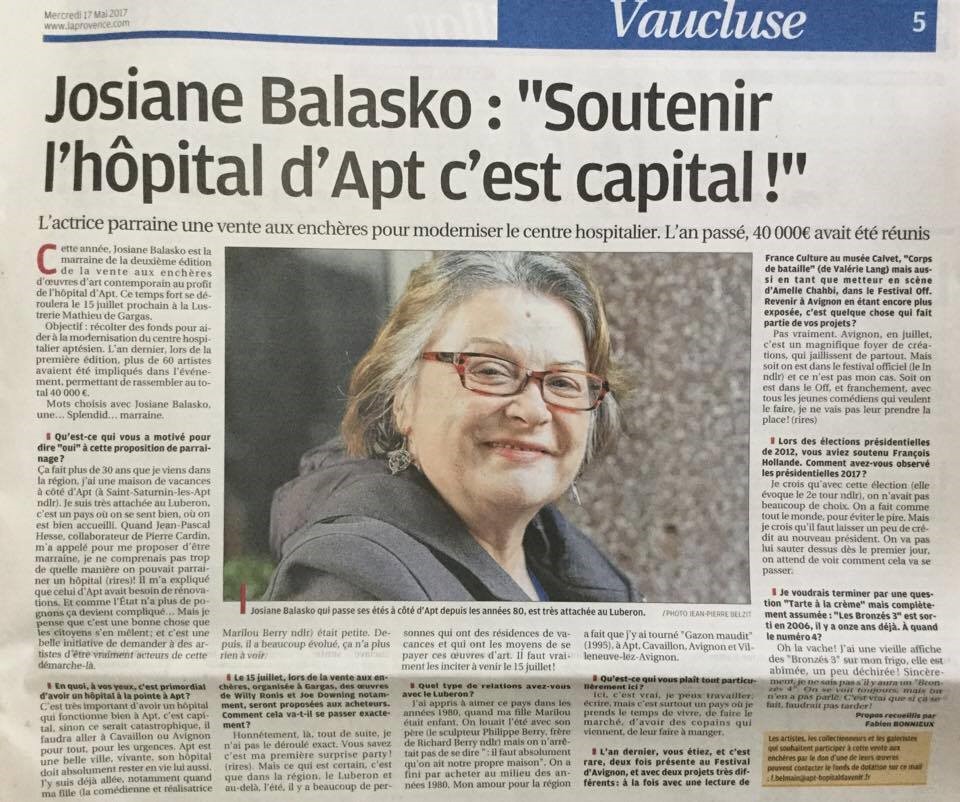 http://www.mathieulustrerie.com